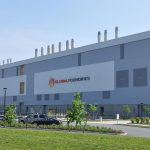 GloFo is to sell 33 million shares and major shareholder Mubadala is to sell 22 million shares for between $42 and $47 a share in an attempt to raise $2.6 billion.
If $47 is achieved that would put a value on GloFo of $25 billion.
GloFo has debt of $2.2 billion and is loss-making.
The company lost $1.35 billion in 2020, and $1.37 billion in 2019.
Revenues dropped nearly 17% to about $4.9 billion in 2020, partly because of an accounting change and partly because GlobalFoundries sold a business in 2019, generating $291 million of revenue that year.
Funds managed by BlackRock, Columbia Management Investment Advisers, Fidelity Management, and Qualcomm have shown interest in buying $1 billion worth of shares.
Silver Lake has agreed to purchase $75 million of stocks in a concurrent private placement priced at the IPO price.
The offer is being led by Morgan Stanley, Bank of America, JPMorgan Chase, Citigroup and Credit Suisse.